Nocturne in 1200 Seconds
by Ping Chong
Nocturne in 1200 Seconds is a series of seemingly unrelated monologues alternating between two enigmatic "FIGURES". The script was created out of found texts slightly altered and recycled. The work obliquely examines the dark side of human nature.
Artist statement
"I am fond of saying, all islands connect under water. If only we human beings could remember and truly understand that, that we are all in this thing called life together, that our actions wherever we may be on the globe have consequences for each and every one of us. Nocturne in 1200 Seconds, a chamber work, small as a nutshell, encompasses the world. All of 20 or so minutes long, you are taken on a journey both in time and space to confront the dark side of our nature with a single reminder that without compassion and kindness, we are unworthy of being called human."
— Ping Chong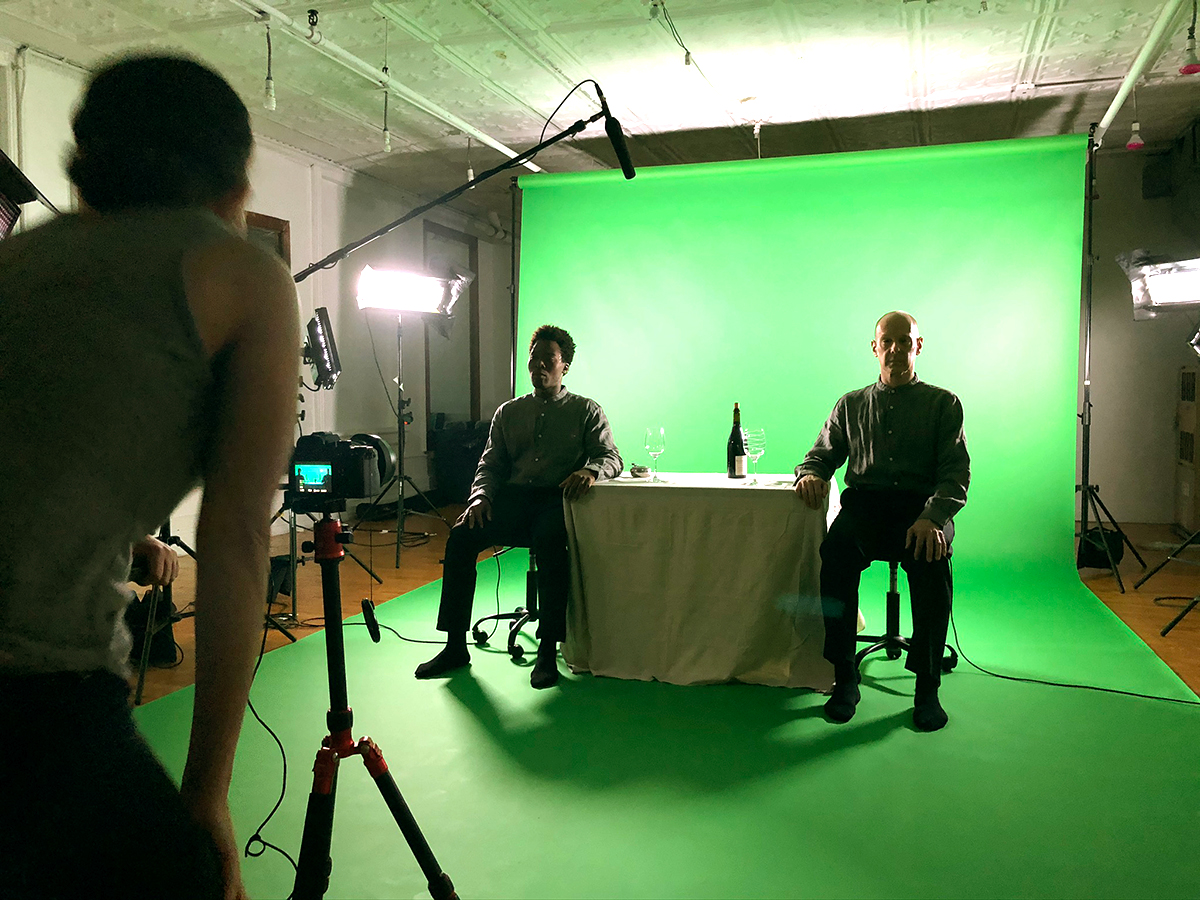 Video Credits
Director: Ping Chong
Assistant Director / Cinematographer: Kristina Varshavskaya
Editor / VFX Artist: Kristina Varshavskaya
‍Sound Designer / Sound Editor: Ernesto Valenzuela 
Production Sound Mixer / Boom Operator: Ernesto Valenzuela
Voice Over Technician: Nathan Rubio
‍Lighting Designer / Gaffer: Hao Bai
Costume / Make-up Designer: Stefani Mar
Makeup artist: Amanda Briskin-Wallace
Production Assistant: Destiny Castro

cast
Figure 1: Christopher Caines
Figure 2: Adebowalé Adebiyi
News Anchor Voice Over: George Drance
LEAD ARTIST BIOS
Ping Chong is Artistic Director of Ping Chong and Company and an internationally acclaimed theatre artist and pioneer in the use of media in the theater. Since 1972, he has created over 100 works for the stage which have been presented at major festivals and theatres worldwide. He has been awarded an APAP Award of Merit, Guggenheim Fellowship, a USA Artist Fellowship, two BESSIE awards, two OBIE awards and the 2013 Doris Duke Performing Artist Award. He is the recipient of the 2014 National Medal of Arts, the highest honor specifically given for achievement in the arts to an individual artist in the United States. In 1992, he created the first work in the Undesirable Elements series of community-engaged interview-based theater projects, of which there have now been over 60 productions. Theatre Communications Group has published two volumes of his plays The East West Quartet and a volume on Undesirable Elements.
Kristina Varshavskaya is a filmmaker & multimedia artist born in Russia and raised in Brooklyn, New York. She is a co-founder of the REVELATIONS PRODUCTION, a team of multimedia artists that produce and create works that focus on diversity, originality and individuality! For the past several years she has played many key roles such as a cinematographer, editor, director, content creator and multimedia designer on multiple projects. Her recent works include promotional videos for GenNYZ and Calling: a dance with faith, in addition her  editing credits include  projects such as En Foco Inc — Silence Out Loud, New Settlement — Bigger Love, Ping Chong — The Aleph, de Maistre and Me. For more content & info visit www.revelationsproduction.com.