You Are The News Now
by Jaime Sunwoo and Matt Chilton
You Are The News Now explores the fragile balance of online reality during the United States' COVID-19 crisis. Through parallel monologues sourced entirely from found text, the virus's devastation comes into contrast with viral misinformation and conspiracy theories surrounding the virus's origin, government lockdowns, masks, vaccination, and racial violence. While the government and establishment media struggle to interpret the crisis for the online public, the mysterious "Q" and his army of citizen journalist "Digital Soldiers" wage war on the construction of truth itself.
Instructions
‍This piece is best experienced with headphones, without distractions. After the first listen, we encourage listeners to explore the transcript and bibliography.
content warning
Unreality, descriptions of child sexual abuse, racial violence and slurs, and mature language.
"We took inspiration from Nocturne in 1200 Seconds's use of found text monologues, binary structure, and direction to maintain a mesmerizing yet disaffected recitation style while exploring intense trauma and conflict. Through audio, we capture the overwhelming experience of being bombarded with unsourced, polarizing (mis)information in our flattened internet media landscape. We want people to understand the lure of conspiracy theories and their influence in mainstream US politics firsthand, but without amplifying their dangerous misinformation. For this reason, the piece includes a transcript and bibliography that the listener can use to research all of the information included."
— Jaime Sunwoo and Matt Chilton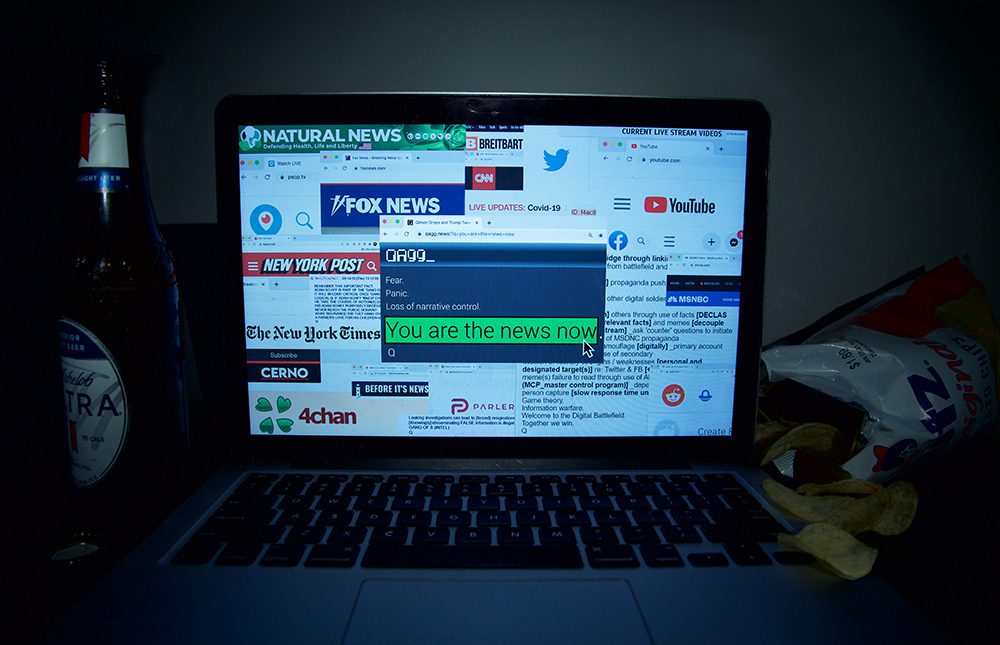 ARTIST BIOS
Jaime Sunwoo is a Korean American multidisciplinary artist from Brooklyn, New York. She creates multimedia performances in galleries, theaters, and public spaces. Her works connect personal narratives to global histories through surreal storytelling. She studied art at Yale University, and is an alumni of The Laundromat Project for socially engaged art. Her work has been seen at Park Avenue Armory, Abrons ArtCenter, BAX, JACK, The Tank, and Flux Factory. She was a resident artist for HB Studio Rehearsal Space Residency and received awards from the Queens Council on the Arts' Artist Commissioning Program, Ms. Foundation for Women in association with Asian Women Giving Circle, and the NYC Women's Fund for Specially Processed American Me, a performance reflecting on the significance of SPAM in the Asian American community. She is currently a Ping Chong and Company Creative Fellow. See more of Jaime's work at jaimesunwoo.com.

Matt Chilton is a musician and sound designer from New York City. This is his first collaboration with Ping Chong andCompany. His works include FIELDWORK for mixed vocal / instrumental ensemble and architectural acoustics, and a growing repertoire for overtone voice alongside music for chamber ensembles and electric bands. He has collaborated extensively with Jaime Sunwoo on past interdisciplinary projects including Specially Processed American Me, Equality Tea, and reGENEration lab, and has live-scored Lisa Peterson & Denis O'Hare's An Iliad at Atlas PAC and the Embassy of Greece in Washington DC. He has a BA from Wesleyan University, where he studied composition, improvisation, and sound design with Paula Matthusen and Anthony Braxton.